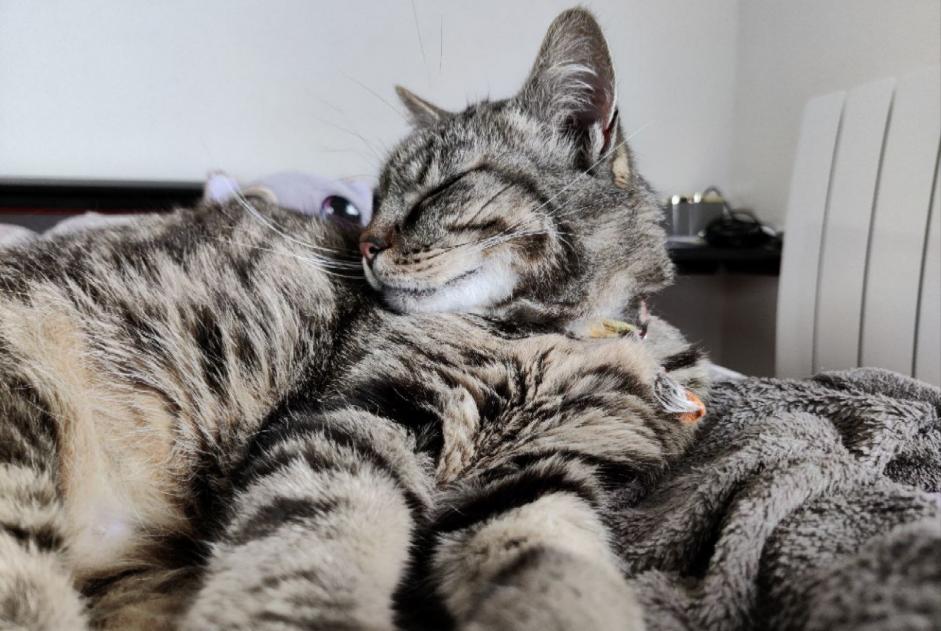 Announcement
S'est échappé de son nouveau logement après être resté seulement 6 jours à l'intérieur. Il ne connaît pas du tout son environnement extérieur. L'ancien domicile se situe à 10 km à Naves (19460). C'est un chat d'extérieur, peureux et extrêmement gentil, il ne se laisse pas approcher facilement par des inconnus. Il à l'habitude d'être appelé et sifflé pour rentrer le soir, et peut être attiré par le bruit d'un sachet de croquettes.
Wanted notice for Lost cat Tulle - Corrèze/19
Profile
Name Pompon
Age 7 years
Sex Male
Race Cat Europäisch Kurzhaar
Size 48 cm
Weight 5.1 kg
Color Tabby
Details
Collar Yes
Microchip Yes
Castrated Yes
Details of the collar
Color : Red
Type of necklace : Cloth
Details of the collar : Collier rouge anti-étranglement en nylon avec motifs réfléchissants (25/35cm)
Particularities
Frightened / fearful
Pas agressif, mais très peureux, il tentera de s'enfuir. Pas de défauts physiques spécifiques.